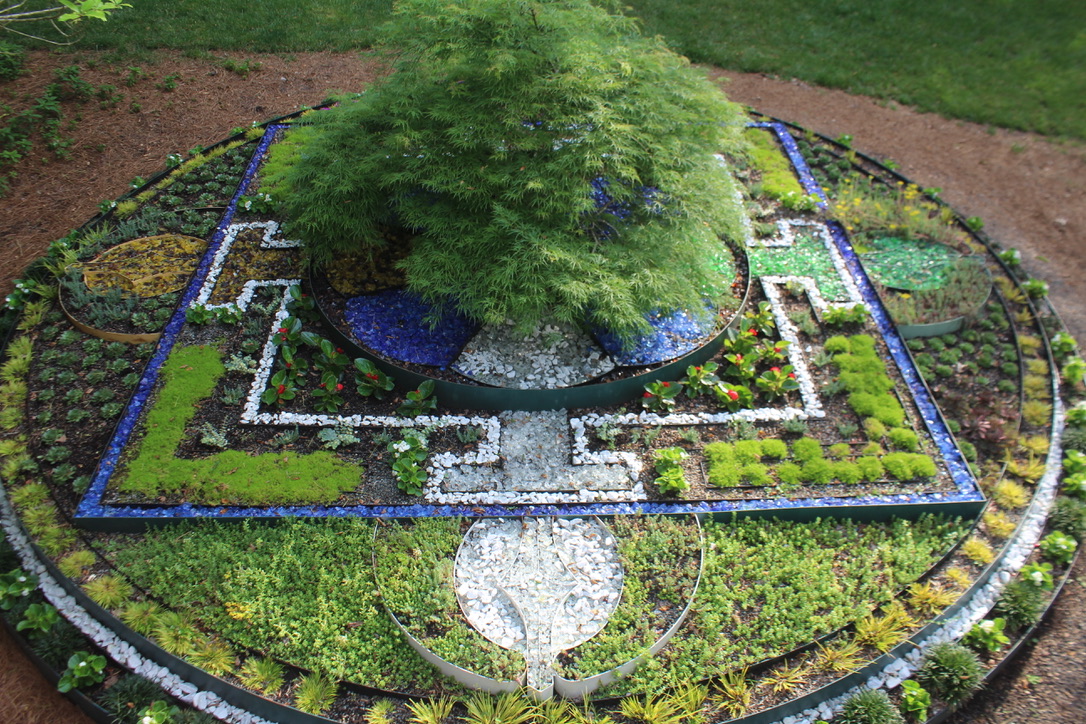 Living Mandala Garden
---
Living Mandala Garden
Emory University's Living Mandala Garden is located between Cannon Chapel and the Atlanta campus quadrangle and is a unique addition to the natural beauty of the campus. It conveys the interconnection of nature, spirituality, art, and community. It is a living expression of the Tibetan Buddhist practice of Mandala-making, which is connected to various practices and principles such as mindfulness, meditation, contemplation, inter-being, impermanence, community, and care.       
Emory's Living Mandala Garden was inspired by the 17th Karmapa's interest in using Buddhist practices to preserve and care for nature. It was during a visit to the Karmapa in 2011 that a group of Emory staff and faculty was impressed and motivated by the Karmapa's environmentally-friendly initiatives.
Some of the members in that group were Geshe Lobsang Tenzin Negi (Executive Director, Center for Contemplative Science and Compassion-Based Ethics), Elizabeth Hornor (Ingram Senior Director of Education, Michael C. Carlos Museum), Rosemary Magee (then Vice President and Secretary, Emory University). Upon returning to Emory, they connected with Emory landscape architect James Johnson, Jimmy Powell from Campus Services and monastics from the Drepung Loseling Monastery to plan the Mandala which was funded by Reverend Susan Henry-Crowe, the then Dean of the Chapel and Religious Life. In March 2012, the Mandala was completed and inaugurated during Emory's annual Tibet Week and blessed by Tibetan monastics and the interfaith community. (Read More: https://news.emory.edu/stories/2012/03/er_tibet_week/campus.html )  
Since then, the Mandala has become a center of spiritual and contemplative practices, especially among the Emory Buddhist community. Members of the Emory Buddhist Club have been instrumental in caring for the garden over the years. In March 2021, the newly appointed Buddhist Chaplain Venerable Priya, supported by the Buddhist and interfaith community, resumed the regular replanting of the Mandala, which now occurs each semester. The Mandala nurtures connection among the Emory community of students, staff, and faculty as they come together to care for the garden. It is also an attractive space inviting passersby to pause, admire, reflect, and go away with joy. 
Resources
Please click the link below to read the article about the living mandala.
Circle of Community:Restoring Emory's living mandala